Weather History and Average Weather by City and State
Weather history, precipitation, temperature and other historical weather data in table and chart formats. Review the average weather by city and state.

Weather history is one of the most important factors to take into consideration when looking for the best places to live. CityRating.com offers a wide variety of historical weather data that includes temperature, relative humidity, precipitation and cloudiness averages. Please select the city or state that interests you from the list below. You will be presented with tables and charts of monthly weather data for your convenience.

If you are only interested in the average temperature for a city, please visit the average temperature page. Similarly, if you are only interested in the relative humidity for a city, please visit the relative humidity page.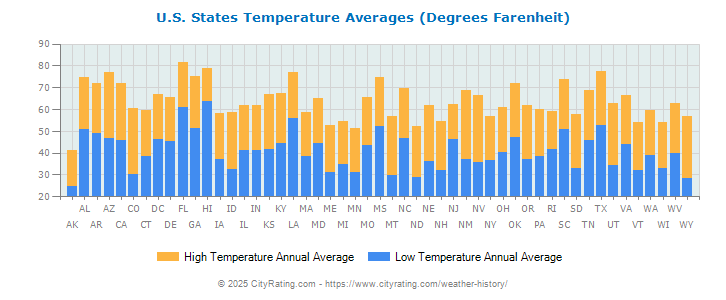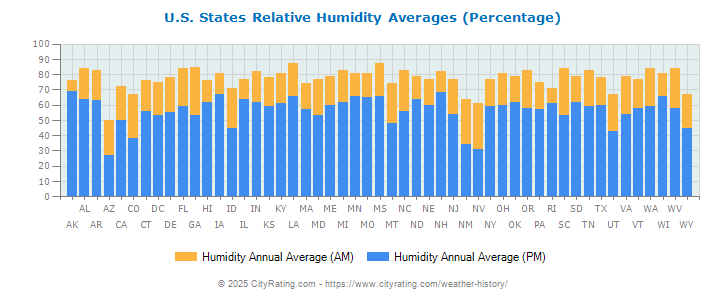 Select Your City:
Alabama Weather History
Birmingham, AL
Huntsville, AL
Mobile, AL
Montgomery, AL
Alaska Weather History
Anchorage, AK
Fairbanks, AK
Juneau, AK
Arizona Weather History
Flagstaff, AZ
Phoenix, AZ
Tucson, AZ
Yuma, AZ
Arkansas Weather History
Little Rock, AR
California Weather History
Bakersfield, CA
Fresno, CA
Long Beach, CA
Los Angeles, CA
Redding, CA
Sacramento, CA
San Diego, CA
San Francisco, CA
San Jose, CA
Colorado Weather History
Colorado Springs, CO
Denver, CO
Grand Junction, CO
Pueblo, CO
Connecticut Weather History
Bridgeport, CT
Hartford, CT
Delaware Weather History
District of Columbia Weather History
Washington, DC
Florida Weather History
Daytona Beach, FL
Fort Myers, FL
Gainseville, FL
Jacksonville, FL
Key West, FL
Miami, FL
Orlando, FL
Pensacola, FL
Tallahassee, FL
Tampa, FL
Vero Beach, FL
West Palm Beach, FL
Georgia Weather History
Athens, GA
Atlanta, GA
Augusta, GA
Macon, GA
Savannah, GA
Hawaii Weather History
Honolulu, HI
Idaho Weather History
Boise, ID
Pocatello, ID
Illinois Weather History
Chicago, IL
Peoria, IL
Indiana Weather History
Indianapolis, IN
Iowa Weather History
Des Moines, IA
Sioux City, IA
Waterloo, IA
Kansas Weather History
Topeka, KS
Wichita, KS
Kentucky Weather History
Lexington, KY
Louisville, KY
Louisiana Weather History
Baton Rouge, LA
New Orleans, LA
Maine Weather History
Maryland Weather History
Baltimore, MD
Massachusetts Weather History
Boston, MA
Worcester, MA
Michigan Weather History
Detroit, MI
Flint, MI
Grand Rapids, MI
Lansing, MI
Minnesota Weather History
Duluth, MN
Minneapolis - St. Paul, MN
Saint Cloud, MN
Mississippi Weather History
Tupelo, MS
Missouri Weather History
Kansas City, MO
Montana Weather History
Billings, MT
Glasgow, MT
Great Falls, MT
Missoula, MT
Nebraska Weather History
Lincoln, NE
Omaha, NE
Nevada Weather History
Las Vegas, NV
Reno, NV
New Hampshire Weather History
Concord, NH
New Jersey Weather History
Atlantic City, NJ
Newark, NJ
New Mexico Weather History
Albuquerque, NM
Clayton, NM
Roswell, NM
New York Weather History
Albany, NY
Buffalo, NY
Islip, NY
New York, NY
Syracuse, NY
North Carolina Weather History
Asheville, NC
Charlotte, NC
Greensboro, NC
Raleigh - Durham, NC
North Dakota Weather History
Bismark, ND
Fargo, ND
Ohio Weather History
Akron, OH
Cincinnati, OH
Cleveland, OH
Toledo, OH
Youngstown, OH
Oklahoma Weather History
Oklahoma City, OK
Tulsa, OK
Oregon Weather History
Astoria, OR
Eugene, OR
Pennsylvania Weather History
Erie, PA
Philadelphia, PA
Pittsburgh, PA
Williamsport, PA
Rhode Island Weather History
Providence, RI
South Carolina Weather History
Charleston, SC
Greenville, SC
South Dakota Weather History
Rapid City, SD
Sioux Falls, SD
Tennessee Weather History
Chattanooga, TN
Knoxville, TN
Memphis, TN
Nashville, TN
Texas Weather History
Amarillo, TX
Austin, TX
Corpus Christi, TX
Dallas - Fort Worth, TX
El Paso, TX
Galvestion, TX
Houston, TX
San Antonio, TX
Waco, TX
Wichita Falls, TX
Utah Weather History
Salt Lake City, UT
Vermont Weather History
Burlington, VT
Virginia Weather History
Richmond, VA
Washington Weather History
Olympia, WA
Seattle, WA
Spokane, WA
West Virginia Weather History
Charleston, WV
Wisconsin Weather History
Green Bay, WI
Madison, WI
Milwaukee, WI
Wyoming Weather History
Casper, WY
Cheyenne, WY